Columbia Fruit saves money with organized inventory
Columbia Fruit selected UpKeep's mobile-first solution to help it organize its technicians' workload as well as create an accurate inventory of parts. "Things are a lot better already," said Jaziel Alejandro, IT manager at Columbia Fruit.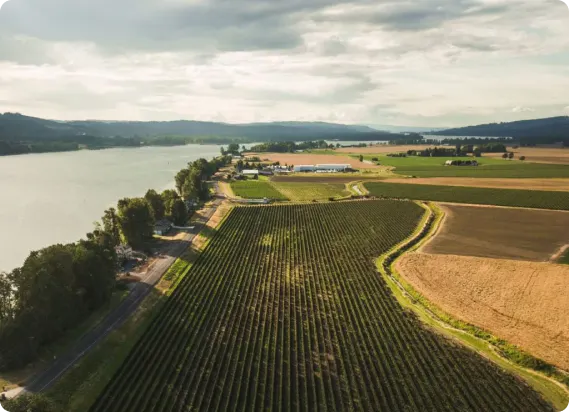 Challenge
Columbia Fruit's maintenance system was antiquated and disorganized. With no system to track spare parts, many technicians would simply order materials when they needed them. This resulted in extra, unused parts and wasted resources. Most of the maintenance work simply occurred when equipment broke down; there was no easy way to track and plan for preventive maintenance tasks.
Solution
The company selected UpKeep's mobile-first solution to help it organize its technicians' workload as well as create an accurate inventory of parts. "Things are a lot better already," said Jaziel Alejandro, IT manager at Columbia Fruit. "Our inventory is not quite 100 percent accurate yet, but we're working toward that. We're also keeping track of what technicians are doing, when they are doing it, and how long they're taking."
Ease-of-Use Makes Implementation Simple
Since Columbia Fruit had been using a pen-and-paper system for so long, it took a culture shift to make the switch to UpKeep. However, the team found the user interface easy to work with and intuitive, which made the overall implementation easier and accepted.
"We have some technicians who are not very tech savvy and were comfortable with the old way of doing things," Jaziel said. "The platform is pretty easy to navigate. Most of the features are easy to find, even without any guidance. You can just kind of browse through the different tabs and you eventually get to where you need to. We've also been using UpKeep's short videos and tutorials, which are very helpful as well."
Assigning and Tracking Work Orders
During the first several months, Columbia Fruit began to tie work from its maintenance shop and truck shop into UpKeep's system. In addition, the company has added QR codes to all its machinery and assets.
"That allows a technician to go up to the actual machine, pull out a phone, scan the QR code, access the work order and complete the work order easily," Jaziel explained. Just over a dozen technicians have been added so far, and eventually, the production maintenance team, the mechanical team, and the refrigeration team will all be added.
Inventory Organization Means Saved Dollars
One significant area of improvement and cost savings revolved around the inventory management of spare parts. "We found that parts were not being used correctly or were quickly lost because there was no system to keep track of them," Jaziel said. "We also would find big overstocks of certain parts because they got misplaced somewhere and technicians would just keep ordering more."
The issue affected the inventory of air bulbs, water bulbs, and sensors as well as many small parts that were easily lost. "We also kept machine motors in stock because they are expensive and usually needed quickly," Jaziel added. "However, if we had multiple ones and then retired a piece of equipment, that was just wasted money because those parts are never needed again."
Beginning a Preventive Maintenance Program
On the old, manual system, Columbia Fruit often just waited for equipment to break down before fixing it. UpKeep allows the company to have the tools in order to work more proactively.
"We've been trying to create a preventive maintenance program with checklists for the technicians to go out on the floor every day and check certain pieces of equipment," Jaziel said. "We want them to do a quick walk-through and complete those checklists just to ensure that the machines are working as they should and correct issues before there are any major repairs needed."
In addition, UpKeep has helped Columbia Fruit track and schedule equipment maintenance based on hours used as well. By using meters on assets such as electric forklifts, technicians can better stay on top of maintenance required.
"Our technicians will set a certain number of hours for each piece of equipment, and once that number has been reached, they bring that piece to the shop," Jaziel said. "For example, every 5,000 hours, we might grease the parts of a forklift and check certain components. One of our critical assets runs 24/7 because it's responsible for moving the fruit around and packaging the bags before they are shipped to retail stores. "Our strategic preventive maintenance procedures helps us keep a close eye on that one so that every so many hours, we replace bars, adjust sensors, and change the knives to keep it running smoothly."
Data-Based Performance
As Columbia Fruit begins to use more and more of UpKeep's features, the company is able to pull analytic and report information from its daily work orders and inventory tracking system. Eventually, this data can help its management team make smarter business decisions.
"Our management team keeps track of how many orders were completed and how many new orders were created," Jaziel explained. "We also use the filters to see data by technician, by occasion or by department just to have a better understanding of where the majority of the work is being done and what is happening out there."
The company also plans to start tracking machine downtime. "We want to know which ones are giving us more issues and which ones are taking most of our technicians' time," Jaziel added. "We also want to better track parts, and which machines are requiring the most spare parts."
UpKeep Makes Audit Process Simple
As part of the food industry, Columbia Fruit has to undergo many audits throughout the year. UpKeep has made the audit process much simpler.
"Basically, we have a pretty big audit just to oversee the safety of our workers as well as the safety of the fruit," Jaziel said. "We want to make sure that everything is clean and that the machines and equipment are sanitized properly after every shift and before every new shift. We want to ensure that all our parts and chemicals are food-grade. UpKeep helps us track all that as well as all the guidelines we need to be following."
Want to keep reading?
Good choice. We have more articles about maintenance!
4,000+ COMPANIES RELY ON ASSET OPERATIONS MANAGEMENT
Leading the Way to a Better Future for Maintenance and Reliability
Your asset and equipment data doesn't belong in a silo. UpKeep makes it simple to see where everything stands, all in one place. That means less guesswork and more time to focus on what matters.