Alto Products moves from reactive to preventive maintenance
The Alto maintenance team appreciated UpKeep's easy-to-use interface, which provided a smooth onboarding process for its many technicians.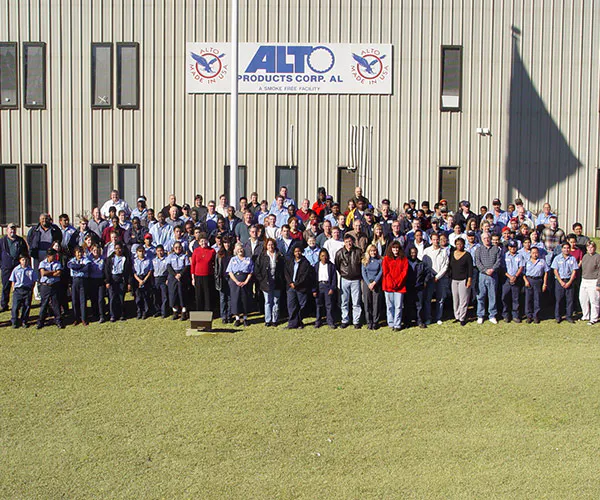 Challenge
Alto was using an antiquated system that was paper-based and had no online capability at the time. The maintenance team would print out work orders and stick them in pigeon holes. The sheer volume of paper to manage became cumbersome and time-consuming, keeping technicians away from their primary maintenance tasks.
The management team knew it needed to find a new solution that would automate the work order system, track data more accurately, and help make the team work more efficiently.
Solution
"We started looking at a few different companies at the time, and we liked UpKeep," said Jonathan Matear, maintenance coordinator at Alto Products. "It seemed like a very fresh, new company. We also thought that UpKeep would work with us to customize it for our needs."
Alto Products needed a web-based software system that could be used on tablets. "We liked the QR code aspect for asset management," Matear said. "The price was a factor as well, and the user interface had to be simple. UpKeep met all those criteria."
Smooth, Caring Onboarding
The Alto maintenance team appreciated the easy-to-use interface as many of its technicians were not technology savvy. "The onboarding process went smoothly," Matear said. "We felt like we were being looked after, you know, being taken care of. That was nice.
"We had a lot of work to do," he continued "We had to manually input all our data and get everything well organized. Some of our data was incomplete and other information was just missing. If technicians left the company, we wouldn't be able to talk with them about things they had done. It's a work in progress, but we've made tremendous progress since we started using UpKeep two years ago."
Moving From Reactive to Preventive Maintenance
Before implementing UpKeep, Alto Products' efforts to establish a preventive maintenance program were challenging. "Many of the preventative maintenance tasks just got put at the bottom of the to-do pile and would never get done," Matear said. "We were focused on fixing broken equipment and all struggling to keep up with the paperwork."
After UpKeep was up and running at Alto, the results were visibly evident to those on the shop floor within a couple of months.
"We got preventative maintenance running in just one area first so we could get some early results," Matear said. "We started in our steel flattening area and quickly noticed that there were fewer reactionary calls to fix those machines. My boss knew it was making a difference not because of any reports but because he suddenly had technicians available to do other jobs.
"Then, we moved onto the paper press area and made sure things were getting lubricated and checked," he continued. "That area started to level out, too, with fewer reactionary calls. That shift alone has resulted in Alto saving thousands of dollars already because we are replacing fewer parts. For example, we're greasing the bearings instead of replacing the bearings."
Future Plans
Currently, Alto Products is tracking mostly unplanned and planned work orders. "However, our data is getting better and better," Matear said. "My goal for the future is to continue to generate accurate analytics for the maintenance department. I want to see downtimes, late maintenance work orders, and things like that. We operate a lot of older equipment; our oldest piece is a 1941 steel press. We want to keep these machines running. In the end, success for us means having technicians available to do the reactive maintenance in a timely way.
Want to keep reading?
Good choice. We have more articles about maintenance!
4,000+ COMPANIES RELY ON ASSET OPERATIONS MANAGEMENT
Leading the Way to a Better Future for Maintenance and Reliability
Your asset and equipment data doesn't belong in a silo. UpKeep makes it simple to see where everything stands, all in one place. That means less guesswork and more time to focus on what matters.