While Generation Z has shown more interest in manufacturing jobs than previous generations, millennials (defined as those who were born from 1981 to 1996) have shown little interest in taking on manufacturing jobs. Much of the reason for that is a lack of understanding of what a career in manufacturing entails. So, recruiting more young people into the industry will involve overcoming those misconceptions.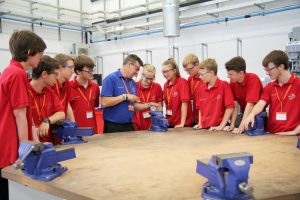 Reasons young people disregard manufacturing as a career
Some of the specific reasons young people have avoided working in manufacturing include:
Perceiving manufacturing workplaces as harsh, outdated, and dirty places to work (they're not)
Believing that manufacturing provides only low wages (it doesn't)
Lack of awareness of manufacturing jobs
Lack of influence from educators to consider work in manufacturing
Perceived lack of opportunity for advancement or fulfillment
Note: The key to helping young people join the industry will mean upending these misconceptions and increasing awareness of the opportunities present in manufacturing.
Changes in the industry
Many of the above issues are based on outdated concepts. Manufacturing has seen a great deal of change, and the younger generation should be made aware of the advances that are happening right now in the industry. This includes:
Greater need for technical savvy and training
Increased use of technology, including VR devices, robots, and IoT devices
Reduced need for unskilled labor
In essence, the industry as a whole is becoming one where skill with technology is more important than simple manual labor. That's a role young people—who are highly tech savvy—are well suited to fill.
Ways to attract young people to manufacturing
Some of the tactics manufacturers can use when recruiting young people include the following.
Actively dispelling myths about manufacturing
Using social media to educate people on the nature of manufacturing jobs
Supporting training programs and policy that encourage education about manufacturing
Co-mentorships—older workers teach younger ones work processes, while the younger workers help the older ones with the technology
Focusing on the increased use of technology in the workplace, such as new technician tools or devices
Use the term "make" instead of "manufacture"—the "maker movement" is very much alive among millennials, who tend to prefer work where they create their own stuff
Emphasize opportunities for development (and thereby fulfillment)
Summer camps and education programs
By employing a few of these methods, manufacturers could start to attract more members of the younger generation to their facilities and overcome their staffing issues.